Hire React Native Developers to Upscale your product development capabilities
React Native stands out from most existing cross-platform application development methodologies because it renders utilizing the regular rendering APIs of its host platform. It is based on real-world views and components, One of the reasons for React Native's phenomenal success. React Native's main advantage is the ability to reuse code, which indicated that apps may run on several platforms, which is the main thing that CEOs and product owners appreciate.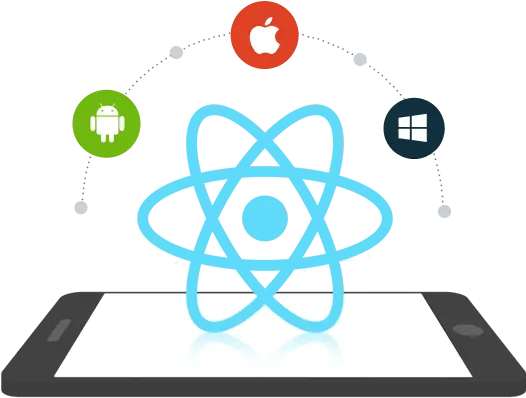 React Native Mobile App development services
As it avoids several apps for multiple platforms such as iOS, Android, and Windows, React native saves a lot of time and a cross-platform mobile application saves a lot of money. Furthermore, it takes up a lot less room. 
Personalized React Native UI/UX Development:

We use the React Native JavaScript library to create beautiful and interactive user interfaces and provide amazing apps that improve client engagement.

React Native App Development:

From designing an attractive user interface to developing  versatile, cross-platform software for iOS and Android, we use cutting-edge technologies to create a high-performing app.

Switching to React Native: Our dedicated react native developers team provides a smooth transition from JavaScript platforms and legacy apps to modern and strong React Native Apps with better UI/UX.
MVP Development: Using pre-made UI toolkits and native app components, our software developers in India, swiftly generate appealing designs for your MVP, allowing you to get your ideas to market faster at lower costs while still ensuring smooth user interactions.
Why is React Native a Good Choice for Build Mobile App Framework
React Native is the greatest option if you need to create an app that works on both iOS and Android. It can help you save time and money by reducing the codebase by roughly 95%. React Native also comes with a variety of open-source libraries of pre-built components that can help you speed up the development process even more.
Walmart, Microsoft, Tesla, and many popular brands use React Native to build their application
Why Hire React Native Developers From Us
Choose from a variety of hiring models
Seeking a dedicated react native developer for hire from Web Idea Solution on a monthly, Part-time, Hourly, or Fixed cost basis?
1. Team Screening and Selection
2. Development and reporting
3. Delivery and Team Extension
Discover How We Can Help Your Business Grow
Our Team Is Specialized In A Wide Array Of Industry Verticals