Hire Laravel Developers to Upscale your product Development Capabilities
Laravel is an open-source web application framework with a sophisticated syntax. If you use Laravel as your web application platform, you'll be one step closer to having speedier web apps with well-integrated built-in functionality.
Add Your Heading Text Here
Add Your Heading Text Here
Add Your Heading Text Here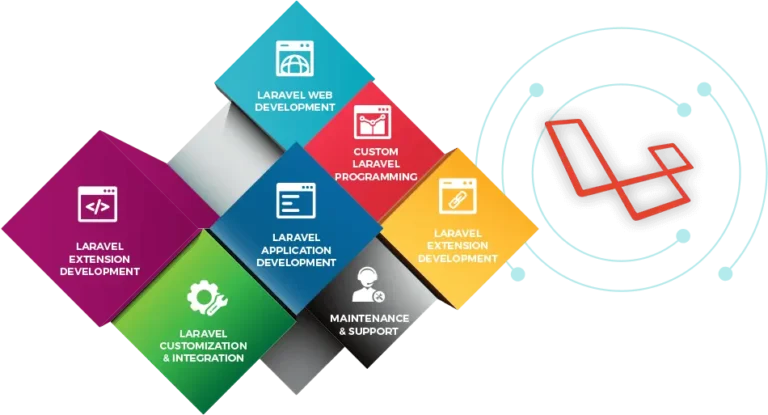 Laravel web development services
Laravel simplifies some of the most common chores, including routing, authentication, sessions, caching, and others, so that developers can concentrate on the app's business aspects.
Laravel web application tailored to your needs:

It is critical to supply the appropriate web solutions in order to establish an online presence. Hire specialized Laravel programmers with a track record of developing unique web solutions for a wide range of businesses.

Migration services:

Transforming your company's application allows you to stay competitive in the market while also keeping your users interested. Onboard professional Laravel coders who can migrate data from other technologies/frameworks to Laravel in a timely and reliable manner.

CMS Development:

Hire Laravel Developers to create eCommerce and CMS websites that are both functional and appealing. Our global clients benefit from the outstanding services and

laravel ecommerce development solutions

provided by our remote Laravel Developers. 

Maintenance and Integration with Laravel: Hire dedicated Laravel Developers to manage and maintain your web applications in accordance with best practices. Hire dedicated development team provider to integrate and upgrade your current project from other platforms to Laravel.
Why Laravel is a Good Choice to Build a Web App
One of the most compelling reasons to use the Laravel framework for web app development is the ease with which unit testing can be accomplished. Unit testing is a type of testing in which each component or module of the web application is checked to ensure that no part of the website is left untested. Before a web application goes online, this type of unit testing ensures that it is free of exceptions or flaws. This means your end-users will have bug-free, high-performing software.
9GAG, BBC, Pfizer, and many popular brands use Laravel to build their application
Why Hire Professional Laravel Services From Us
Choose from a variety of hiring models
 Hire Laravel developers from Web Idea Solution LLP on a monthly, Part-time, Hourly, or Fixed cost basis
1. Team Screening and Selection
2. Development and reporting
3. Delivery and Team Extension
Discover How We Can Help Your Business Grow
Our Team Is Specialized In A Wide Array Of Industry Verticals