We are into the generation of digital thrive where everyone wants to push towards their maximum potential for their brands. Do you know Google handles 3.5 billion searches a day? What strategy will you use to make your brand stand out? Is your website outperforming the competition?
SEO and paid marketing services are the two most effective search engine marketing tactics for generating sales and increasing traffic. Money and effort are needed for a good marketing campaign. Choosing between pay-per-click marketing and search engine optimization is difficult unless you have a thorough understanding of both.
Why are Organic Marketing and Paid Marketing Important?
The value of Organic marketing is tough to quantify because it's typically employed to fill the top of a sales funnel. Organic marketing generates brand exposure and social engagement, which are important factors in conversions, and organizations that rely solely on paid advertising are frequently losing money.
When you are running your brand with fewer sales and you want to increase your customers for better ROI and revenues then these are the only option available today. Both SEO services and paid marketing services are under the tree of Search Engine Marketing (SEM), and each has a distinct focus. The two fundamentals of digital marketing, according to many, are SEO and paid marketing.
Organic and paid search contribute to 70% of worldwide website traffic:
Organic search generates 55% of the web's traffic.
Paid search generates 15% of the web's traffic.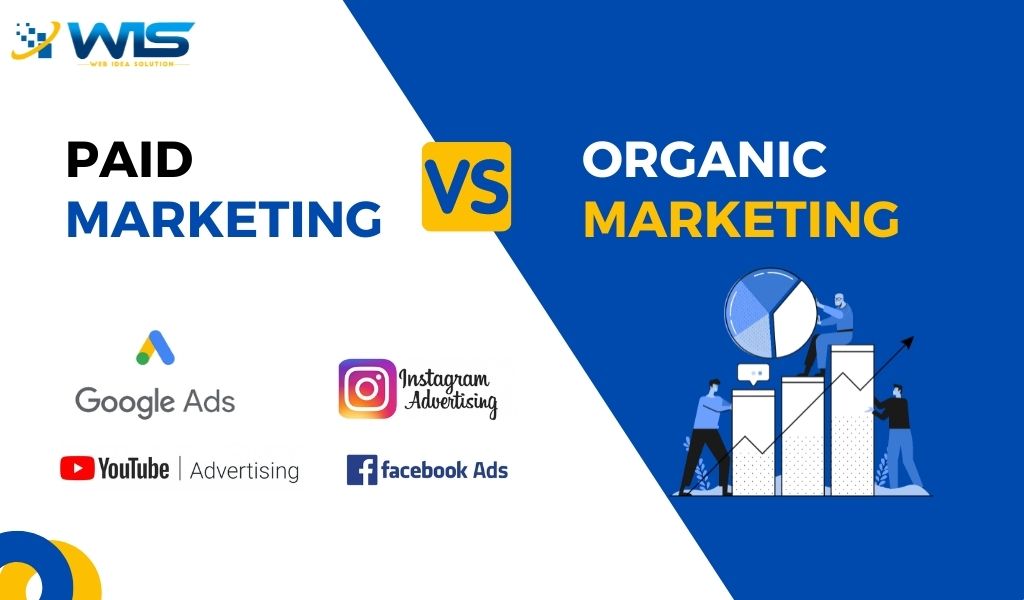 What is Search Engine Optimization (SEO)?
It is a digital process to gain customers as well as it can increase the visibility of your website in the search engines. Or in another word we can say it is a complete process to rank you out of others where you can enjoy your brand in a proper way.
Check Out The Advantages Of SEO:
SEO is cost savings
It can be used for long terms
Maintenance is less comparing paid marketing
Steady, long-term traffic is generated
Increases brand trustworthiness
Potentially larger audience
Lengthy, better ROI
SEO Disadvantages:
Produces effects more slowly
For content that needs to be delivered quickly, it's not the best option.
Has a lower level of functional control
Analytical information is more unclear
What is Paid Marketing?
Paid marketing is also a way to increase the exposure of your website and webpages in search engines and partner sites by paying for it. It is planned that these sponsored advertising would appear at the top of the SERP. Bidding and keyword targeting are used to achieve this goal.
Check Out The Best Advantages of Paid Marketing:
Results are produced quickly
Short-term higher ROI
More control over performance
Targeting a specific group of people
Provides in-depth analytics
Paid Marketing Disadvantages:
Short-term is more costly
It necessitates a higher level of maintenance.
Over time, it becomes less efficient.
Larger budgets may be necessary.
Which Marketing Strategy Is Right for You?
As a digital marketing agency, Web Idea Solution LLP is fulfilling each and every client's need on both platforms. So, it completely depends upon you. If you are having less time and want a instant impact then paid marketing is a good option but it will cost you more than SEO services. And if you want spectacular results as well as a good return on your investment, we recommend SEO because it is the finest method for getting your brand to the top of the search results. On the other hand, if you're considering paid marketing, you should know that it's a more expensive method in which the ads are set for a fixed period of time and if you want to extend them, you'll have to spend more money.
Conclusion: Both SEO and Paid Marketing are Beneficial
We are here to tell you that both of the services are beneficial in terms of use. Both SEO and paid marketing can help your brand grow and give incredible returns on investment. But only if you know when to use them to get the most bang for your buck. In the end, your goals will determine which digital marketing company you utilize.